Introducing Rosalique  
** This magic, miracle cream for red and sensitive skin is set to become your ultimate hero against Rosacea **  
Did you know 415 million people suffer from Rosacea worldwide? This skin complaint is a chronic disorder of the facial skin that is often characterized by flare-ups and remissions. Without treatment, bumps and pimples often develop, and in severe cases the nose may become swollen from excess tissue. In around half of patients, the eyes are also affected and left feeling irritated and appearing watery or bloodshot.
If you suffer from Rosacea, help is at hand as Rosalique 3-in-1 Anti-Redness Miracle Formula SPF 25 Cream is now available in the UAE and clinically proven to soothe and calm irritated skin with long term use.
Rosalique contains the highest quality ingredients and has been developed especially for hyper-sensitive and redness-prone skin. It provides an instant concealing effect through its unique micro-encapsulated technology and offers redness-reducing clinically proven ingredients a-Bisabolol, Zeolite, Provitamin B5, Urea and Shear Butter.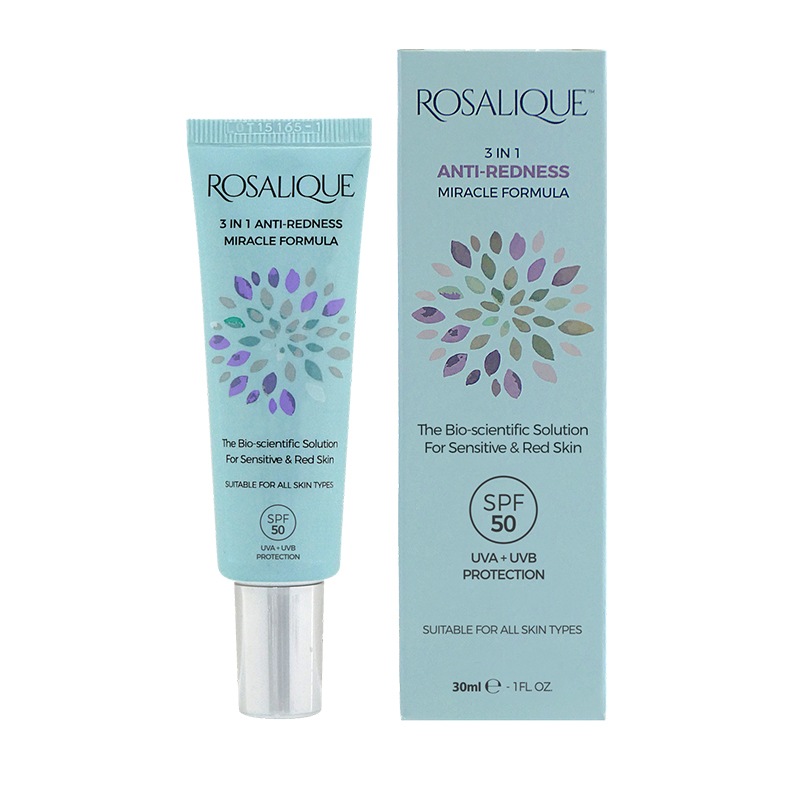 Rosalique's triple action effect is a three-step method designed to Conceal, Treat and Protect. The first step conceals, delivering ultra-fine micro encapsulated balls that are green on the outer edge to initially neutralize skin redness and will instantly conceal, mask redness and unevenness. The second step delivers a gentle treatment that offers bio-clinically active ingredients that will reduce inflammation and redness whilst further soothing and calming irritated skin. The third and final step is long term protection and is found in the award-winning formula by way of UV filters that protect from both UVA and UVB sun rays. The SPF 25 offers protection so that skin is less agitated and irritated from long-term skin damage that UV rays can cause.
By using Rosalique's miracle cream you can eradicate the need to use multiple base products on your skin. Loved by beauty editors worldwide, celebrities and make-up artists, this cruelty-free, vegan skincare cream also acts as a primer that also moisturises, contains SPF and gives a beautiful, dewy finish. The cult product has fast become a life changing skincare product for thousands of women worldwide who are suffering with red and uneven skin tone.
Rosalique is priced at AED 195 and available from Bin Sina Pharmacies and online on https://cigalahmedpharm.com/
Visit https://cigalahmedpharm.com/ to find out more. You can also keep up to date with the latest news and updates on social media @rosalique_skincare.