By – Honey Sanadhya,
PMMAF's Assistant Manager – PR & Digital, Corporate Communications Division
Panasonic Blow Drying Tips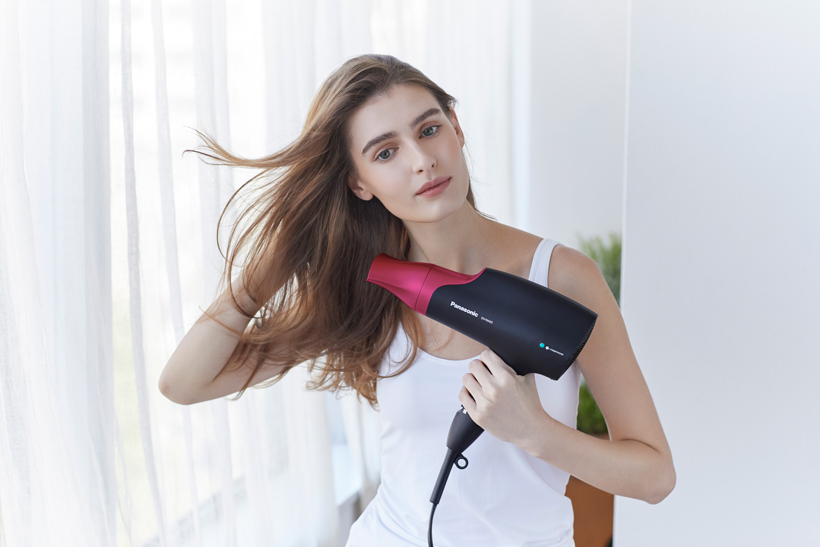 Most of your favourite spots in the city are open, and you are all set to go out and about. Be it a shopping trip to the mall or occasional dine out, getting your glam game on still matters of course, and Panasonic makes it easy for you to look your best with an at-home beauty regimen. All you need is the right beauty tool – like the Panasonic EH-NA65 Hair Dryer – to get amazingly healthy and gorgeous hair!
For those who shy away from blow dry for fear of damaging their hair, our NA65 hair dryer is just what you need for salon-level, flawlessly shiny, healthy tresses.  Built with our nanoeTM innovation, this hair dryer provides moisture, enhances smoothness, and boosts lustre on the hair. It also reduces stress from daily brushing as nanoeTM particles have been proven to make hair resilient to friction damage.  Plus, with a quick-dry nozzle and a clever diffuser, getting your hair to look the exact level of natural perfection is a breeze.
Here are a few blow dry tips from Panasonic beauty to take your hair game to the next level:
Always pre-dry your hair with a towel to remove excess water before blow drying.  A sopping wet hair is fragile and more susceptible to breakage when exposed to heat.  Do not rough-dry hair with a towel but instead gently squeeze out excess moisture, then blow dry while finger-combing from the roots down to the tips.
Don't focus too much on the ends; start at the roots.  Wrapping the hair around a brush and blasting it with hot air is a no-no.  Instead, position your round brush at the roots and move down in circular motion while slowly applying heat. Remember to tilt it 45-degrees diagonally to the blow-drying side for ease.
Don't take the nozzle for granted.  EH-NA65's quick-dry nozzle simultaneously emits a strong and soft airflow to separate the strands and improve the drying speed.  Using the nozzle also allows some space between the hairdryer and the strands, meaning less heat exposure.
Upgrade your preening process with the diffuser.  A diffuser is designed to disperse air through many small holes over a larger area.  For those with curly hair, the diffuser allows air to circulate around the wet strands for more clearly defined curls.  Those with flat, straight hair will often get more volume when using the diffuser.
Not all hair dryers are created equal so make sure to invest in one that boasts quality and reliability and is packed with premium features. The nanoeTM EH-NA65 hairdryer guarantees ultimate hair care. Panasonic's innovative nanoe™ technology produces nano-sized electrostatic atomised water particles using a high voltage charge. These invisible ions infuse 1,000 times more moisture than regular ions into the hair as you are blow drying. NA65 gives you control with high and low air settings for various styles and drying types. It also has hot, warm, and cool settings to suit all hair types.  Last but not the least, a handy cool shot button helps set your hair more quickly, so you can get ready in no time!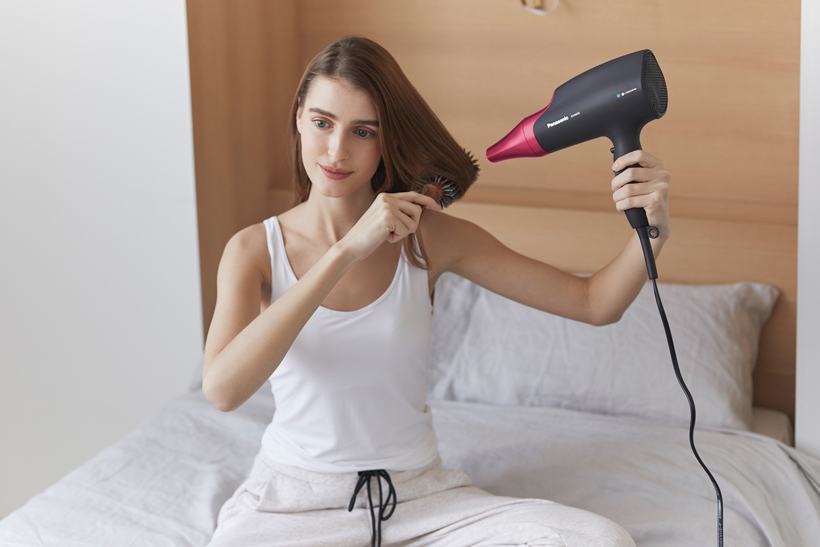 How NanoeTM in Panasonic's NA65 Hair Dryer works:
Provides moisture to keep hair smooth and shiny
Nanoe are ultrafine particles of water that penetrate hair through extremely small openings in the cuticle and then tighten the cuticle. The result is healthy, supple hair with a lustrous sheen.
Nanoe moistens scalp, keeping it clean and healthy
Moisture-rich nanoe promotes scalp health, preventing the dryness that causes hair damage. It also makes it easier for water to mix with sebum for better removal when washing.
Static electricity prevention effect
Nanoe neutralises the positive charge that's easily generated on the surface of hair when it's dry or when brushed to prevent static electricity. This prevents hair from sticking up, making it easy to manage and enabling your fingers to slip smoothly through it.
Get your NA65 hairdryer from here – https://www.panasonic.com/middleeast/en/consumer/beauty-personal-health-care/womens-beauty/hair-dryers/eh-na65.html