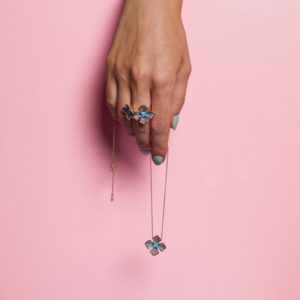 Exclusively Available at Robinsons Dubai Festival City
If summer was a jewellery collection, the Robinsons exclusive capsule collection by MKS Jewellery would be it! Representative of the vibrant and colorful feel the summer season brings, this limited-edition collection uses ultra-vibrant, rainbow colored natural gems which are both sourced and handmade in Dubai.
The 14 pieces, comprised of rings, necklaces, earrings and bracelets are fun and colorfully playful remakes of the most popular pieces from MKS Jewellery's iconic collections: Girl Code, Geogami, Al Otaiba and Floating Gems.
The Al Otaiba dreamcatchers, the Girl Code little eyes and hearts and the Floating Gems and Stars are all about adventures, seeing the world in all its beauty, hopes and dreams. Each piece in the capsule presents sentimental references, little thoughts and reminders, decoded playfully to serve as valuable markers of moments in time or a curated message the wearer gets to build on as their stack grows.
MKS Jewellery lets you create new expressions with a personal touch by mixing and matching. Wear your pieces individually or layered, mixing and matching the rainbow-colored gemstones to create a uniquely personal look.
[URIS id=7431]
An endless combination of rings, earrings, bracelets and pendants set in yellow gold with a rainbow of gemstones, including sapphires, amethysts, emeralds and rubies, form to create pieces that are just as individual as you are.
Exclusively available at Robinsons Dubai Festival City and Robinsons.com for a limited time only!
#RobinsonsxMKS