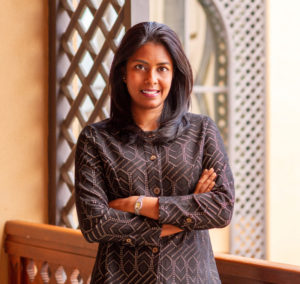 Oman – Muscat, 9 July 2019 – Anantara Al Jabal Al Akhdar Resort has appointed Dr. Tania Bardhan as the new Director of its award-winning spa. Dr. Bardhan, a qualified homeopathic and acupuncture practitioner with over 18 years of industry experience, has won various high-profile spa and hospitality accolades. In her new role, she is anticipated to build on the spa's high standards of service by overseeing all operational aspects of spa management, integrating wellness, spa and activities as a comprehensive proposition for guests at the resort.
Dagmar Symes, General Manager of Anantara Al Jabal Al Akhdar Resort said, "Tania is an exceptional spa leader and a great asset to our team. Her knowledge and expertise will help us create unrivalled guest experiences, elevating our spa even further." She added, "Our Anantara Spa plays an integral part of the resort and of the spectacular stay that we deliver to our guests, and we look forward to working with her to enhance it."
Dr. Bardhan began her career as a medical officer with the Society for Applied Sciences in Kolkata. She then moved on to be a Holistic Doctor and Spa Manager before relocating to Dubai to take up the position of Wellness Manager at Talise Spa. Prior to joining Anantara Al Jabal Al Akhdar Resort, she was Group Spa Head for The Leela Palaces, Hotels and Resorts, where she looked after the business performance of six luxury spas across India. Dr. Bardhan was awarded Best Spa Manager by Asia Spa in 2013 and has been profiled by Hotelscapes.
Dr. Bardhan joins a team of dedicated professionals devoted to providing timeless rejuvenating spa experiences to guests and enhancing their escape from the stresses of everyday life. The highest spa retreat in Oman prides itself on providing a serene haven to resort-goers.