Ajman, 5th September 2021 – Indulge your guests in a gastronomic experience paired with personalized service on your wedding day at Ajman Saray, A Luxury Collection Resort. From extravagant to intimate events, the unparalleled balance of timeless venues, award-winning culinary excellence and the highest level of exceptional service instigates extraordinary wedding celebrations.
With a strong emphasis on epicurean elegance and gastronomic cuisine, the resort's culinary experts curated prestigious menus that are seamlessly adaptable to satisfy every taste providing an exclusive fine dining experience on your wedding day. The hotel's Executive Pastry Chef, with his artistic team, will work to design and create a stunning two-layered wedding cake of your dreams.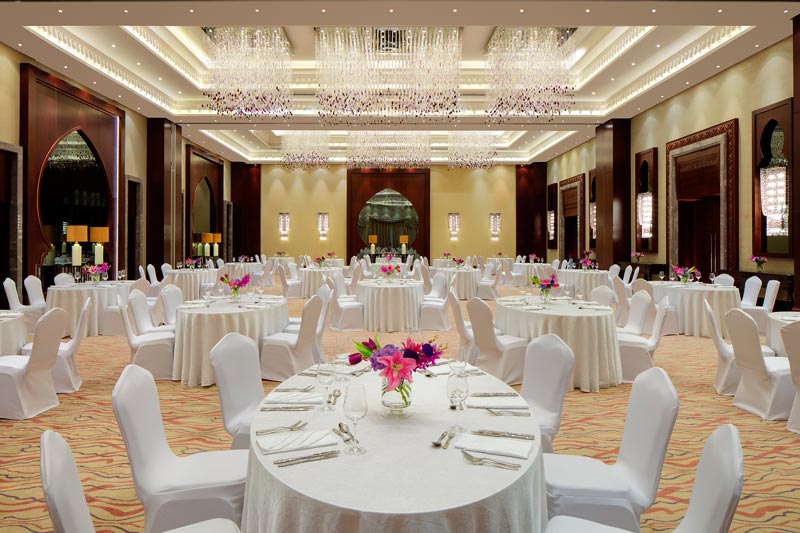 With a lavish approach to wedding buffets, the menus embrace a variety of mouthwatering appetizers, a rich selection of 20 delectable main courses and artisanal desserts. Guests will savor world – class dishes created with ingredients of the finest quality that brings family and friends a unique culinary experience at affordable charges starting AED 130 per guest only from 1st of September to 15th of October 2021.
If you are looking for a contemporary ballroom that echoes luxury and elegance; the hotel's sweeping Medar ballroom reflects classic sophistication and heritage; a traditional grandeur with luxurious décor, stunning chandeliers and sumptuously upholstered walls. Spanning 5,176 square feet, the ballroom can accommodate up to 200 guests and can separate into three smaller venues for more intimate parties or pre-wedding functions.
Against the captivating backdrop of the Arabian Gulf, Ajman Saray is the perfect choice for immaculately beautiful outdoor venues with picturesque backdrops of breathtaking azure waters, white-sandy beach, enchanting sunsets and romantic setups. Couples can also enjoy all hotel venues for a beautiful pre-wedding photoshoot.
Celebrate your love and unity and immerse in romantic luxury with a one-night complimentary stay at the perfect setting for romance and love. Celebrate unforgettable moments with a special honeymoon setup; enjoy a gourmet breakfast with alluring views in the comfort of your deluxe room and raise a toast to precious time together.
Begin the journey of a lifetime in a moment of pure bliss at the hotel's lavish Spa to enhance your special day with exclusive spa packages and flawless services.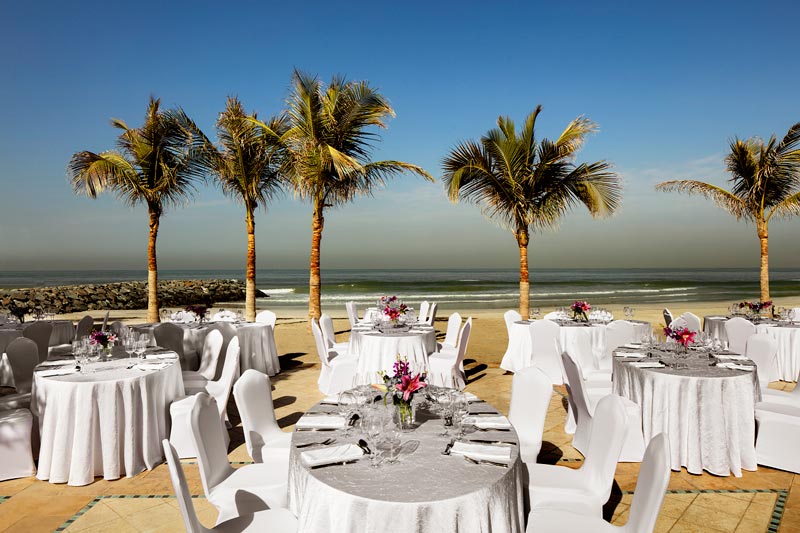 From your first visit to the day of your wedding, our experienced wedding specialists will tailor to your every desire to meet and exceed your expectations. Ajman Saray professionals will work intimately together to design your special day in a place where dreams come true.
T & C apply:
Minimum number of guests is 50
Maximum number of guests is 200
Contact details:
Anji: +971 056 177 0187
Simone: +971 056 177 4498
For more information on Ajman Saray, a Luxury Collection Resort, please visit www.luxurycollection.com/ajmansaray.