Mothers are legit superwomen and your first best friends. They've pulled all-nighters when you were sick and taught you most of the stuff you know. They continue to love, nurture, and inspire you with no expectations in return. As they are constantly juggling with so many responsibilities – be it work, home or parenting, moms often struggle to make time for themselves. This Mother's Day, surprise your moms and grandmoms with the gift of flawless and glowing skin with award-winning breakthrough devices from Swedish Skincare brand Foreo.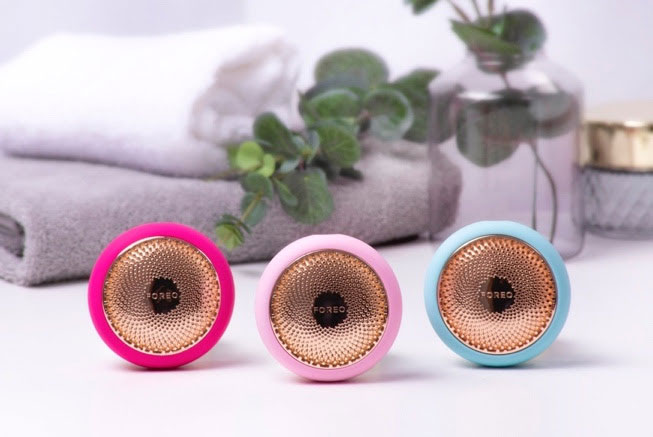 UFO 2 (AED 1450) a 5-in-1 spa facial, pushes active ingredients deep into the skin where they work best, providing a wholesome nourishing treatment that leaves your skin feeling soft and supple. It can be used with specially designed UFO activated masks or FOREO sheet masks, which provide pre-programmed routines via the FOREO app. The app also allows users to customize their routines and use their own preferred masks according to individual skin concerns. This is the perfect gift for your moms and serves as an at home spa experience unlike any other. The queen of your life, mom, can now achieve the most beautiful complexion and skin texture by just devoting 2 minutes of her day to this supercharged facial using LED therapy.
BEAR (AED 1050) This is a one-time life investment for your mother that will reduce wrinkles and improve firmness in just 1 week. The microcurrent device with an Anti-Shock System visibly improves the signs of aging by gently energizing and firming the 69 muscles in your face and neck. Bear comes with a free sample of conductive SERUM SÉRUM SERUM and the FOREO app that is enough for a rejuvenating facelift at home. With powerful ingredients like Squalane and Hyaluronic Acid, this serum is the perfect sidekick to Bear revealing goddess like skin within a week.
FARM TO FACE SHEET MASKS (AED 75) To upgrade any skincare regime and add a luxurious pampering session to your mothers' daily routine, Foreo presents a series of cruelty-free and eco-friendly Farm-to-Face Sheet Masks, made from natural cellulose extracted from eucalyptus wood and pulp that is fully biodegradable. The Farm-to-Face collection features hydro-gel masks that are 100% plant-based and packed with antioxidants to hydrate and restore the skin's youthful radiance in 2 minutes. The range includes Bulgarian Rose Mask, Manuka Honey Sheet Mask, Coconut Oil Mask, Acai Berry Mask and Green Tea Sheet Mask.
FOREO is available on Namshi.com, Sivvi.com, Noon.com and FOREO.com