On July 5, 2021, Messika Paris presented a unique High Jewelry collection, inspired by movement. As we return to sense of normalcy, learning to move again has never been more important. Movement has always been a central element of the creative process at Messika, which is why, Valerie Messika created a collection as an ode to the dance embodied by dancer Fanny Sage. Dance is the medium that Valerie envisioned as a way to better grasp this new world, in which alter egos, like diamonds, leap in a poetic choreography.
A collection comprising of 5 intricate sub-collections, Magnetic Attraction is symbolic of the power of resilience and strength and the poetry of motion.
Pear Lover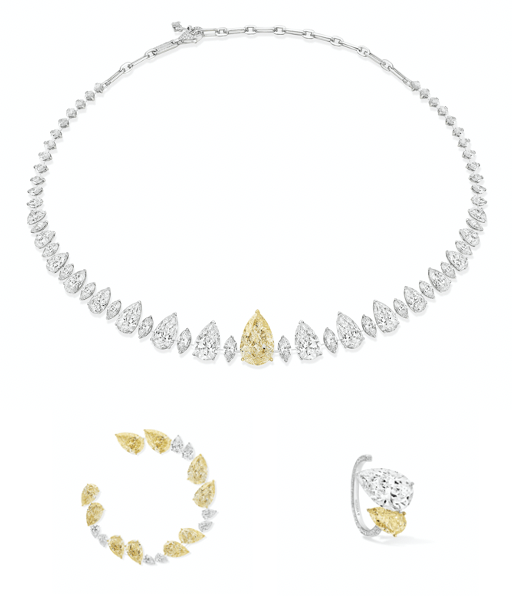 Dancing is a way to find each other again, feeling the strength of the other person, just like in the days when you could hold and be side by side which were synonymous with freedom.
This set celebrates the pear-cut diamond in all sizes, mixing the brilliance of white diamonds with the sunshine of the yellow diamond. Pear-cut diamonds – also referred to as "tears of the gods", are transformed into tears of joy. Gathered together in a joyous ring, they symbolise the return of meeting up and life as we remember, as stones swing one way and then another. A hypnotizing energy radiates from this piece, which combines a river choker and contemporary ear cuff with an attitude so typical of the Parisian jewelry house.
Diamond Magnet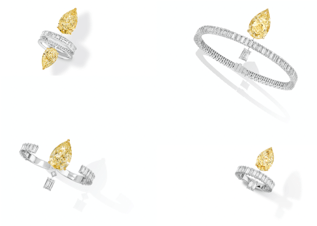 Just like the opposite poles of magnets, the diamonds of different shapes, colours and sizes are irresistibly attracted to one another. Almost touching, the stones are separated by an uncrossable line, which is incarnated in the form of a river of emerald-cut diamonds.
From one article to another, from the bracelet to single or double rings, this line takes on many forms, gaining in refinement but never totally disappearing, just like a magnetic dance. A beautiful metaphor for a "back to back" dance which celebrates union whilst preserving individuality.
Magnetic Love

What is this force that keeps us from each other? Within jewelry this link can take the form of a simple line of diamonds. Each looking in their own direction, the stones seem to be separated forever. Independent, solitary. In an altogether graceful pas de deux, the stones perform a pirouette, and turn their backs on each other, whisked away into this spiral.
The single loop serves to raise this piece to new heights. Worn on the front of the ear, a sparkling and immaculate white pear-cut diamond. On the reverse, two marquise-cut diamonds. One a soft pink, the other royal blue. Three unique diamonds for a bolder style, ideal for a vivid dance.
In this set, a Bohemian allure, strength and finesse contrast with one another in an unparalleled play on gravity. An audacious piece combining the new styles so cherished by Valérie Messika: mono hoop earring, ankle bracelet and wrist bracelet. The same magic is at work within each of these pieces.
The powerful diamond, the queen of gemstones which the Greeks qualified as indomitable, contrasts with the finesse of the chain, which holds the diamond with a crazy lightness, as would a ray of light. The play on pendulums and the play on balance gives the impression of attending an airy ballet. Two stones linked with a single thread that whisper the full force of their attachment to each other.
Pear Appeal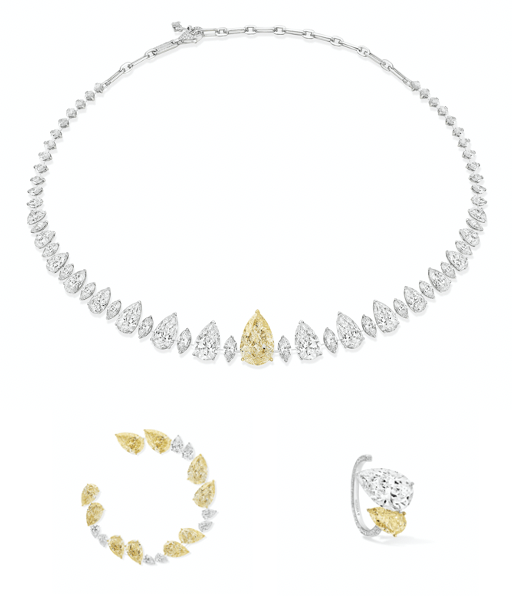 Between face to face and back-to-back, the sumptuous pear-cut yellow diamonds in this piece create an expert pas de deux. It is well known that opposites attract. The magnetic field that surrounds them, represented by this double gold and diamond entourage, creates a halo of light.
The incredible stones seem to expand, to stretch out as if attracted by opposing forces. The set could be Pharaonic given the unbelievable size of the stones. The asymmetry of high and low allows a pendulum movement, making the ensemble more graceful