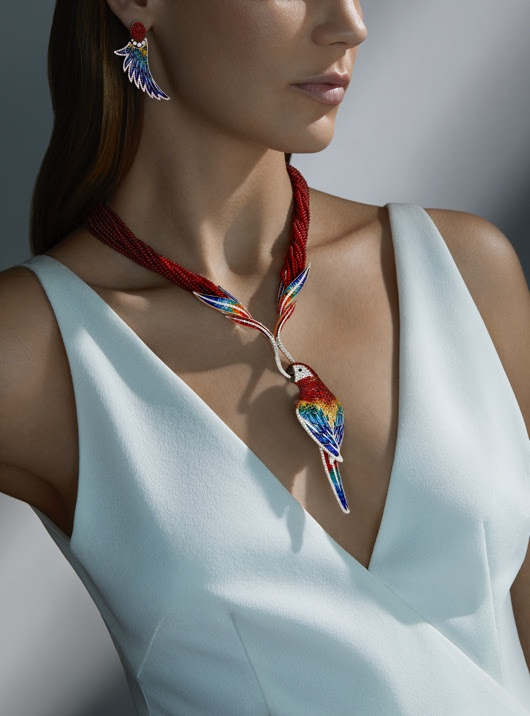 Sicis Jewels are known for bringing back the ancient micromosaic technique in high jewelry collections and production. Creating one-of-a-kind selections, the brand is distinctive for the quality of manufacturing, craftsmanship, and elegance of the original design.
Sicis Jewels transforms one of the world's most enchanting birds, Ara Macaw, into a unique jewelry piece. Arara Scarlet collection pays tribute to the Ara Macaw, which was worshiped by Mayas as a symbol of strength and courage. Currently, the bird is endangered due to the intense color of its plumage, ranging from deep blue to green, from yellow to bright red, which makes it unique and rare.
The necklace, made of intertwined carnelians, has a central pendant made of white gold 18K, micromosaic, white diamonds 7.61ct and black diamonds 0.60ct, as well as multicoloured sapphires: yellow, orange; including rubies and carnelians.
The process behind the Arara Scarlet collection is special and outstanding in the current jewellery market. To develop the contemporary collection, Sicis Jewels' gemologists search for the right gemstones, the cut and colour to reliably represent its feathers' brightest colours, extolling the wings and tail in every shade with micromosaic technique. Whereas mosaicists melt together tesserae of different colours to reach the right shade, highlighting the heritage of Italian craftsmanship and the concept of the Colorful Renaissance.
Website: https://www.sicisjewels.com