Arab Fashion Council celebrates Vogue Talents Day
Dhruv Kapoor, Hussein Bazaza, Daniele Carlotta and Nora Al Shaikh are four talented designers selected by Vogue Italy's Deputy Editor in Chief and Head of Vogue Talents Sara Sozzani Maino and the Lebanese designer Rami Kadi closed the day showing support to the creative talents
Fashionistas were fascinated by the extraordinary collection of the following designers.
PORTFOLIO REVIEW BY VOGUE TALENTS
Vogue Italy's Deputy Editor in Chief and Head of Vogue Talents, Sara Sozzani Maino and Arab Fashion Council's Founder and Chief Executive started the 3rd day of the Arab Fashion Week in an official portfolio review session which took place at the Arab Fashion Council's head quarters in Dubai that enabled shortlisted designers to review their portfolio and receive the advice from industry expert. The winners will be featured on Vogue Talents.
Sara Sozzani Maino, Vogue Italy's Deputy Editor in Chief and Head of Vogue Talents said: "Supporting the new generation of designers through AFW is fundamental. At this stage these designers need to confront themselves with new markets In order to grow their business. The opportunity to show in Dubai is unique and we are very ha
ppy to be part of it".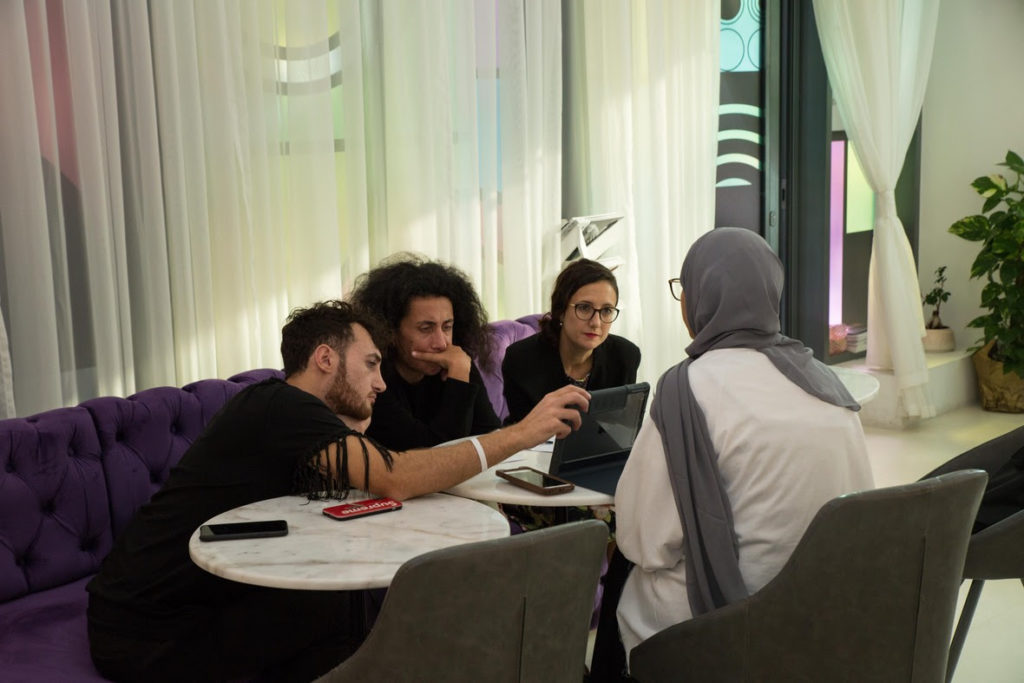 Hussein Bazaza – Lebanon
Hussein showcased EXPERIMENT 2020, for many reasons it is not designed by Hussein Bazaza himself. The actual creative director this season is Portu, his school imaginary friend. Bazaza believes that she was always his creative mind and the reason behind his "creative rebellion" when he would sketch on all his exam papers, on every page of his books and every line of his scribbled notebooks. The designer wanted to transport her from imaginary to reality, finally bringing her to life and showing you the exact steps taken in drawing the sketches. The aim behind it was to experience what many artists feel and sense as they try to envision the designs with their eyes closed. It is also all about the contradiction between reality and fantasy and how these two entities turned out chemically identical in our brains.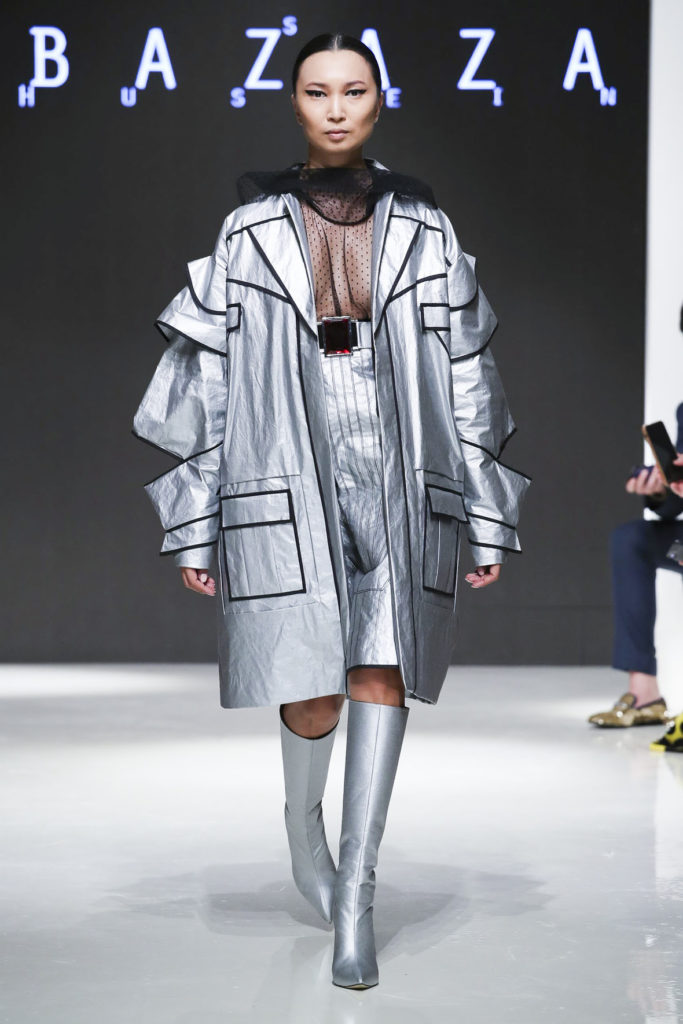 Dhruv Kapoor – India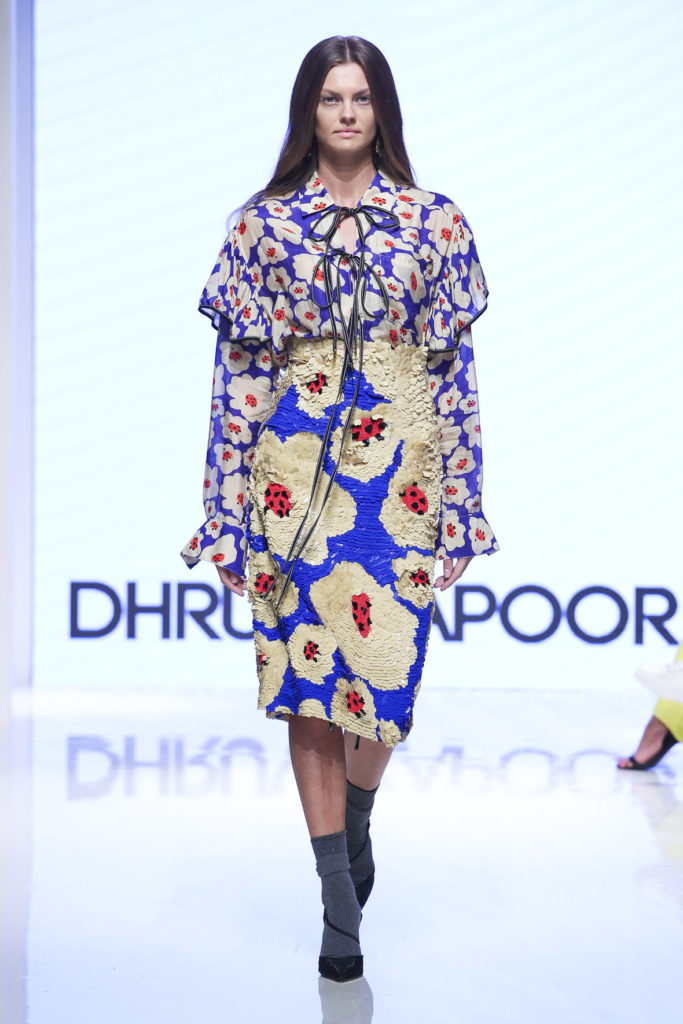 Dhruv presented Spring Summer 2020, a twisted approach on contemporary society offering contrasting elements that are seamlessly juxtaposed to help build multiple subjective stories. From hyper-feminine silhouettes to oversize boyfriend fits, each piece makes its space in this broad spectrum. Patchwork florals, far east temple inspired rustic prints, glitch stripes with a soft undertoneof grunge that connects two poles together. The brand builds an eclectic mix of stories and the consumer is the storyteller.
Daniele Carlotta – Italy
Daniele is an Italian designer who grew up in a family that has been working in the fashion and design business for several decades selling since the end of 70s, Haute Couture fabrics from the biggest names of the Italian and French fashion system, as well as upholstery and luxurious English wallpapers. From a very young age, Daniele surrounded by fabrics, threads and refined materials was fascinated by the excellence of sartorial creations.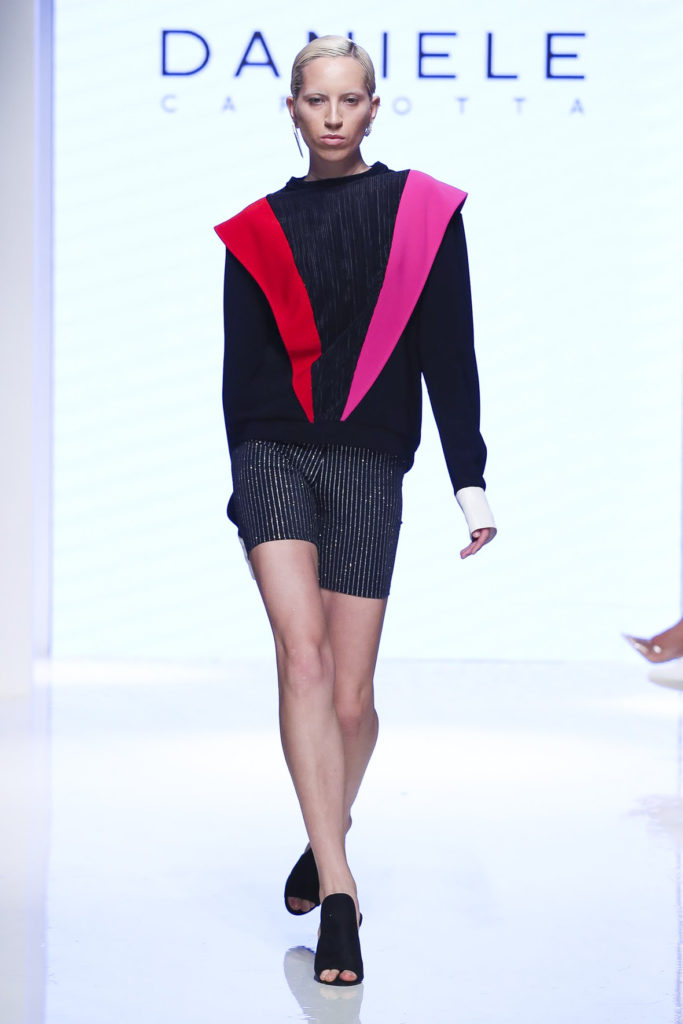 Nora Al Shaikh – KSA
Nora Jeddah-based designer showcased Spring/Summer 2020, she took inspiration from her Saudi heritage. She is constantly inspired by local cultures and
craft traditions, but never in a literal way. She designs for contemporary women and tries to create clothes with an ease and modernity that can be worn anywhere in the world, who creates streamlined separates and dresses in richly colored satins, silks and cottons. She's always been interested in playing with proportions and creating separates that can be worn in different ways that looked to her Najdi roots in central Arabia, which comes through in her choice of colors and the use of cording for embellishment. Among her staples is her deconstructed tailored shirt, variations of which emerge in her collections each season.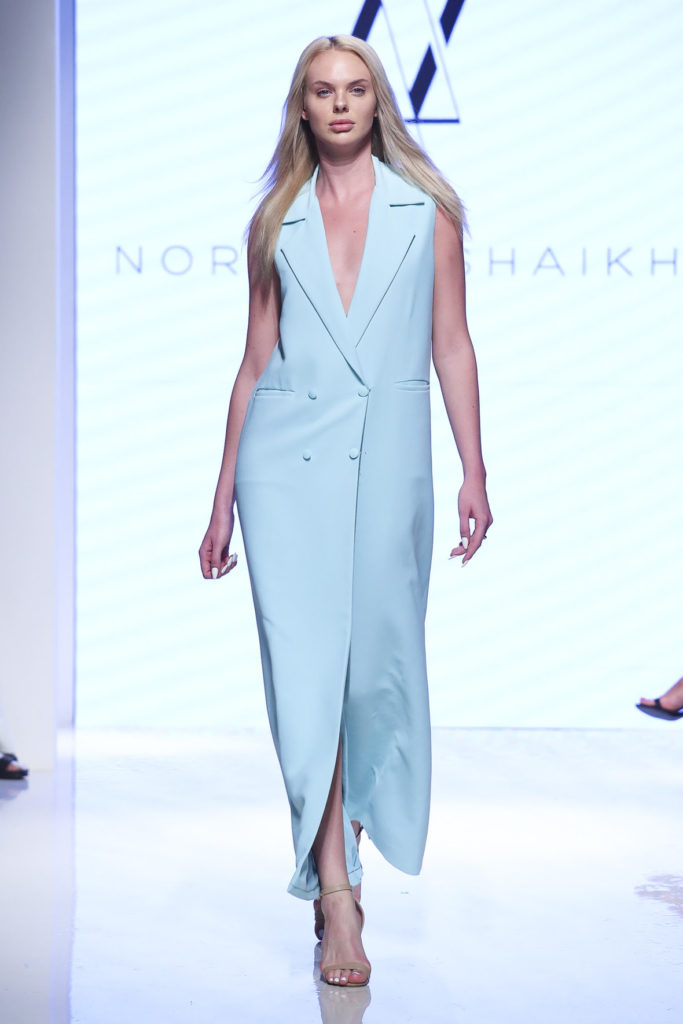 Rami Kadi – Lebanon
The Vogue Talents day was culminated by the show of the the Lebanese American designer Rami Kadi which was opened by the International Model and Actress Megan Pormer. Kadi has showcased Fall Winter 2019-2020 collection, he explores these questions using the flower as his main protagonist. He was inspired to do so whilst browsing through a private book collection in Beirut, where he came across Taschen's reprint of The Temple of Flora, a box set portfolio of illustrations by Robert John Thornton that was originally published in 1799. The prints had such an impression on Rami Kadi that the next step was thinking of a contemporary response to them. This response became the collection. The Temple of Flora highlights novel techniques of handcrafting such as hand-painted plastic leaves, laser-cut techniques and 3D-knitted iridescent sequins. Silhouettes are a composition of 3D materials, with ombré of feathers inspired from the depth of flowers' petals.
Rami Kadi said: "Closing the day of Vogue Talents at the Arab Fashion Week is a message of Rami Kadi's brand vision in giving back to the region and supporting the new talent which is definitely the future of the fashion industry"